Product Summary
The DF14-20P-1.25H(26) is a 1.25mm Pitch Super Low profile Crimping Connector.
Parametrics
Absolute maximum ratings: (1)Current rating:1A; (2)Voltage rating:150V AC; (3)Operating Temperature Range:-35℃ to +85℃; (4)Operating Moisture Range:40% to 80%; (5)Storage Temperature Range:-10℃ to +60℃; (6)Storage Moisture Range:40% to 70%.
Features
Features: (1)Super Low Profile; (2)Correspond to Automatic Mounting; (3)Four Wall Type Without Friction to Board by Socket.
Diagrams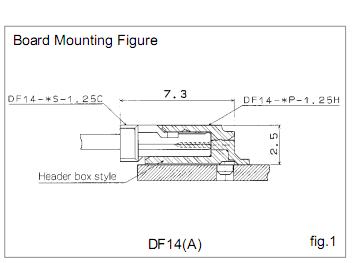 Image
Part No
Mfg
Description
Pricing
(USD)
Quantity

DF14-20P-1.25H(26)

Hirose Connector

Headers & Wire Housings 1.25MM SNG ROW HDR 20P RA SMT TIN

Data Sheet



| | |
| --- | --- |
| 0-1: | $1.71 |
| 1-25: | $1.32 |
| 25-100: | $1.06 |
| 100-250: | $0.87 |

Image
Part No
Mfg
Description
Pricing
(USD)
Quantity

DF14

Other



Data Sheet

Negotiable

DF1400R12IP4D

Infineon Technologies

IGBT Modules IGBT MODULES 1200V 1400A

Data Sheet



| | |
| --- | --- |
| 0-2: | $574.80 |
| 2-10: | $517.80 |


DF14-10P-1.25H(25)

Hirose Connector

Headers & Wire Housings 1.25MM SNG ROW HDR 10P RA SMT TIN

Data Sheet



| | |
| --- | --- |
| 0-1: | $0.95 |
| 1-25: | $0.79 |
| 25-100: | $0.71 |
| 100-250: | $0.59 |


DF14-10P-1.25H(26)

Hirose Connector

Headers & Wire Housings 10P SNG ROW PIN HDR R/A SMT

Data Sheet



| | |
| --- | --- |
| 0-690: | $0.48 |
| 690-1000: | $0.43 |


DF14-10P-1.25H(55)

Hirose Connector

Headers & Wire Housings 1.25MM SNG ROW HDR 10P RA SMT GOLD

Data Sheet



| | |
| --- | --- |
| 0-1: | $1.21 |
| 1-25: | $0.92 |
| 25-100: | $0.74 |
| 100-250: | $0.61 |


DF14-10P-1.25H(56)

Hirose Connector

Headers & Wire Housings 10P SNG ROW PIN HDR R/A SMT

Data Sheet



| | |
| --- | --- |
| 0-690: | $0.52 |
| 690-1000: | $0.46 |