Product Summary
The TLE4267G is a 5-V low drop voltage regulator for automotive applications in the PG-TO220-7 or PG-DSO-14-30 package. It supplies an output current of > 400 mA. The IC is shortcircuit-proof and has an overtemperature protection circuit.
Parametrics
TLE4267GM absolute maximum ratings: (1)Input Voltage, VI: -42 to 42 V ; (2)Input Voltage VI: 60 V max at t ≤ 400 ms; (3)Input Current, II: internally limited; (4)Reset Output Voltage, VRO: -0.3 to 7 V; (5)Reset Output Current, IRO: internally limited; (6)Reset Delay Voltage, VD: -0.3 to 42 V; (7)Output Voltage VQ -0.3 to 7 V ; (8)Output Current IQ: internally limited; (9)Inhibit Voltage, VE2: -42 to 42 V ; (10)Inhibit Current, IE2: -5 to 5 mA at t ≤ 400 ms; (11)Hold Voltage, VE6: -0.3 to 7 V; (12)Hold Current, IE6: internally limited; (13)GND Current IGND: -0.5 A min; (14)Junction temperature, TJ: 150 ℃ max; (15)Storage temperature, Tstg: -50 to 150 ℃.
Features
TLE4267GM features: (1)Output voltage tolerance≤±2%; (2)400 mA output current capability; (3)Low-drop voltage; (4)Very low standby current consumption; (5)Input voltage up to 40 V; (6)Overvoltage protection up to 60 V (400 ms); (7)Reset function down to 1 V output voltage; (8)ESD protection up to 2000 V; (9)Adjustable reset time; (10)On/off logic; (11)Overtemperature protection; (12)Reverse polarity protection; (13)Short-circuit proof; (14)Wide temperature range; (15)Suitable for use in automotive electronics; (16)Green Product (RoHS compliant); (17)AEC Qualified.
Diagrams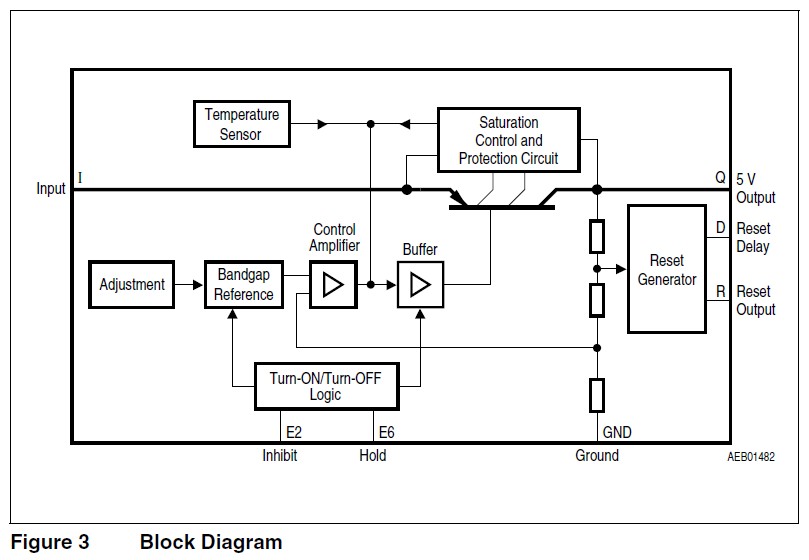 Image
Part No
Mfg
Description
Pricing
(USD)
Quantity

TLE4267GM

Infineon Technologies

Low Dropout (LDO) Regulators LOW DROPOUT REGULATOR

Data Sheet



| | |
| --- | --- |
| 0-1740: | $0.74 |
| 1740-2500: | $0.69 |
| 2500-5000: | $0.67 |
| 5000-10000: | $0.64 |

Image
Part No
Mfg
Description
Pricing
(USD)
Quantity

TLE4117

Other



Data Sheet

Negotiable

TLE4203

Other



Data Sheet

Negotiable

TLE4203G

Other



Data Sheet

Negotiable

TLE4205

Infineon Technologies

Motor / Motion / Ignition Controllers & Drivers 1-A DC Motor Driver

Data Sheet

Negotiable

TLE4205G

Infineon Technologies

Motor / Motion / Ignition Controllers & Drivers 1-A DC Motor Driver

Data Sheet



| | |
| --- | --- |
| 0-610: | $1.15 |
| 610-1000: | $0.97 |
| 1000-2000: | $0.92 |
| 2000-5000: | $0.88 |


TLE4206

Other



Data Sheet

Negotiable