Product Summary
The PCI9060SD is a I2O Compatible PCI BUS master interface chip for adapters and embedded systems. It provides a compact, high performance PCI bus master interface for adapter boards and embedded systems. The programmable local bus of the chip can be configured to directly connect a wide variety of processors, controllers and memory subsystems.
Parametrics
Absolute maximum ratings: (1)Storage Temperature: -65 ℃ to +150 ℃; (2)Ambient Temperature with Power Applied: -55 ℃ to +125 ℃; (3)Supply Voltage to Ground: -0.5 V to +7.0 V; (4)Input Voltage (VIN): VSS -0.5 V, VDD +0.5 V; (5)Output Voltage (VOUT): VSS -0.5 V, VDD +0.5 V.
Features
Features: (1)PCI Version 2.1 compliant Bus Master Interface chip for adapters and embedded systems; (2)I2O Compatible Messaging Unit; (3)3.3 or 5 Volt PCI signaling, 5 volt core, low-power CMOS in 208-pin PQFP; (4)Two independent DMA channels for local bus memory to/from PCI host bus data transfers; (5)Eight programmable FIFOs for zero wait state burst operation; (6)PCI Local data transfers up to 132 MB/sec; (7)Programmable local bus supports nonmultiplexed 32-bit address/data, multiplexed 32 or 16 bit, and slave accesses of 32, 16, or 8 bit local bus devices; (8)Local bus runs asynchronously to the PCI bus; (9)Eight 32 bit mailbox and two 32 bit doorbell registers; (10)Performs Big Endian/Little Endian conversion; (11)Upward compatibility with PCI 9060/9060ES/9060SD.
Diagrams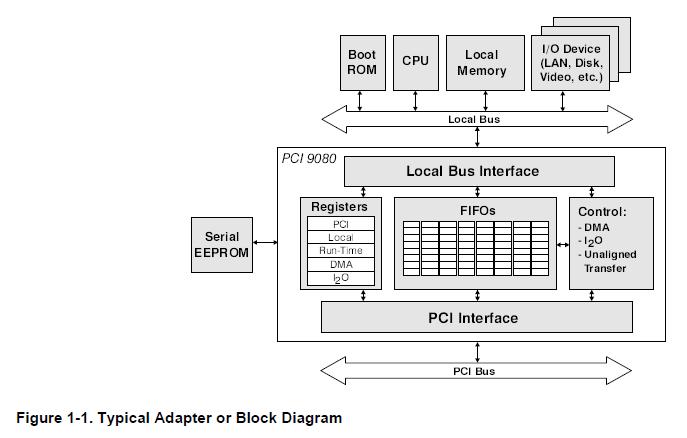 Image
Part No
Mfg
Description
Pricing
(USD)
Quantity

PCI9060SD-1AF

PLX Technology

Digital Bus Switch ICs PCI Bus Interface

Data Sheet

Negotiable
Image
Part No
Mfg
Description
Pricing
(USD)
Quantity

PCI9030-AA60BI

PLX Technology

Peripheral Drivers & Components (PCIs) 32-bit 33MHz PCI v.2.2-compliant

Data Sheet

Negotiable

PCI9030-AA60BI-F

PLX Technology

Peripheral Drivers & Components (PCIs) 32-bit 33MHz PCI v.2.2-compliant

Data Sheet



| | |
| --- | --- |
| 0-1: | $23.63 |
| 1-50: | $22.19 |
| 50-100: | $20.79 |


PCI9030-AA60PI

PLX Technology

Peripheral Drivers & Components (PCIs) 32-bit 33MHz PCI v.2.2-compliant

Data Sheet

Negotiable

PCI9030-AA60PI-F

PLX Technology

Peripheral Drivers & Components (PCIs) 32-bit 33MHz PCI v.2.2-compliant

Data Sheet



| | |
| --- | --- |
| 0-1: | $21.71 |
| 1-50: | $20.39 |
| 50-100: | $19.10 |


PCI9030-AA60VPI

PLX Technology

Peripheral Drivers & Components (PCIs) 32-bit 33MHz PCI v.2.2-compliant

Data Sheet

Negotiable

PCI9030RDK-LITE

PLX Technology

Interface Development Tools PCI9030 KIT

Data Sheet