Product Summary
The TLE6240GP is a 16-fold Low-Side Switch in Smart Power Technology (SPT) with a Serial Peripheral Interface (SPI) and 16 open drain DMOS output stages.
Parametrics
Absolute maximum ratings: (1)Supply voltage:-0.3V to 7V ; (2)Continuous Drain Source Voltage(OUT1 to OUT16):45V; (3)Input Voltage, All Inputs and Data Lines:-0.3V to 7V ; (4)Output current per Channel(see Chapter 5):ID(lim) min; (5)Output current(Max. total current of all channels on; Heat Sink required):14A; (6)Electrostatic Discharge Voltage:2000V.
Features
Features: (1)Short Circuit Protection; (2)Overtemperature Protection; (3)Overvoltage Protection; (4)16 bit Serial Data Input and Diagnostic Output (2 bit/channel for Open Load- and Short to GND detection); (5)Direct Parallel Control of eight channels for PWM Applications; (6)Parallel Inputs High or Low Active programmable; (7)General Fault Flag; (8)Low Quiescent Current; (9)Compatible with 3 V Microcontrollers; (10)Electrostatic discharge (ESD) Protection; (11)Green Product (RoHS compliant); (12)AEC Qualified.
Diagrams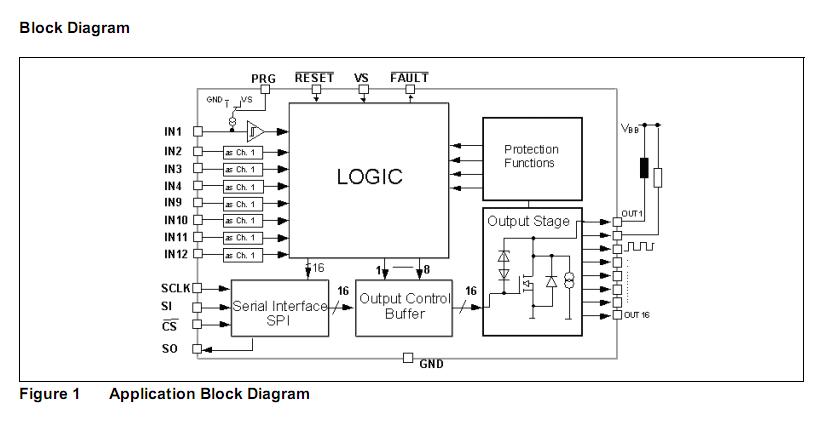 Image
Part No
Mfg
Description
Pricing
(USD)
Quantity

TLE6240GP

Infineon Technologies

Power Switch ICs - Power Distribution MULTI CHANNEL SWITCH

Data Sheet



| | |
| --- | --- |
| 0-471: | $4.28 |
| 471-500: | $3.91 |
| 500-800: | $3.91 |
| 800-1000: | $3.40 |

Image
Part No
Mfg
Description
Pricing
(USD)
Quantity

TLE6208-3G

Infineon Technologies

Motor / Motion / Ignition Controllers & Drivers Triple-Half-Bridge

Data Sheet



| | |
| --- | --- |
| 0-1790: | $1.19 |
| 1790-2500: | $1.13 |
| 2500-5000: | $1.08 |


TLE6208-6G

Infineon Technologies

Motor / Motion / Ignition Controllers & Drivers Six-fold Half-Bridge Driver

Data Sheet



| | |
| --- | --- |
| 0-650: | $2.35 |
| 650-1000: | $2.05 |
| 1000-2000: | $1.97 |


TLE6209

Other



Data Sheet

Negotiable

TLE6209R

Infineon Technologies

Motor / Motion / Ignition Controllers & Drivers 7A H-Bridge 150mA DC-MOTORAPPS

Data Sheet

Negotiable

TLE6210

Other



Data Sheet

Negotiable

TLE6211

Other



Data Sheet

Negotiable