Product Summary
The ST62T60CM6 device is low cost members of the ST62xx 8-bit HCMOS family of microcontrollers, which is targeted at low to medium complexity applications. All ST62xx devices are based on a building block approach: a common core is surrounded by a number of on-chip peripherals. The ST62T60CM6 is the erasable EPROM version of the ST62T60C device, which may be used to emulate the ST62T53C, ST62T60C and ST62T63C devices, as well as the respective ST6253C, ST6260B and ST6263B ROM devices. OTP and EPROM devices are functionally identical. The ROM based versions offer the same functionality selecting as ROM options the options defined in the programmable option byte of the OTP/ EPROM versions.
Parametrics
Absolute maximum ratings: (1)Supply Voltage, Vdd: -0.3 to 7.0V; (2)Input Voltage VSS, VI: -0.3 to VDD+0.3V; (3)Output Voltage VSS, VO: -0.3 to VDD+0.3V; (4)Total Current into VDD (source), IVDD: 80mA; (5)Total Current out of VSS (sink), IVSS: 100mA; (6)Junction Temperature, Tj: 150℃; (7)Storage Temperature, TSTG: -60 to 150℃.
Features
Features: (1)3.0 to 6.0 V Supply Operating Range; (2)8 MHz Maximum Clock Frequency; (3)-40 to +125°C Operating Temperature Range; (4)Run, Wait and Stop Modes; (5)5 Interrupt Vectors; (6)Look-up Table capability in Program Memory; (7)Data Storage in Program Memory: User selectable size; (8)Data RAM: 128 bytes; (9)Data EEPROM: 64/128 bytes (not in ST6253C devices); (10)User Programmable Options; (11)8-bit Timer / Counter with 7-bit programmable prescaler; (12)Digital Watchdog; (13)Oscillator Safe Guard (not in ROM devices); (14)Low Voltage Detector for Safe Reset (not in ROM devices); (15)8-bit A/D Converter with 7 analog inputs; (16)8-bit Synchronous Peripheral Interface (SPI); (17)User configurable Power-on Reset; (18)One external Non-Maskable Interrupt.
Diagrams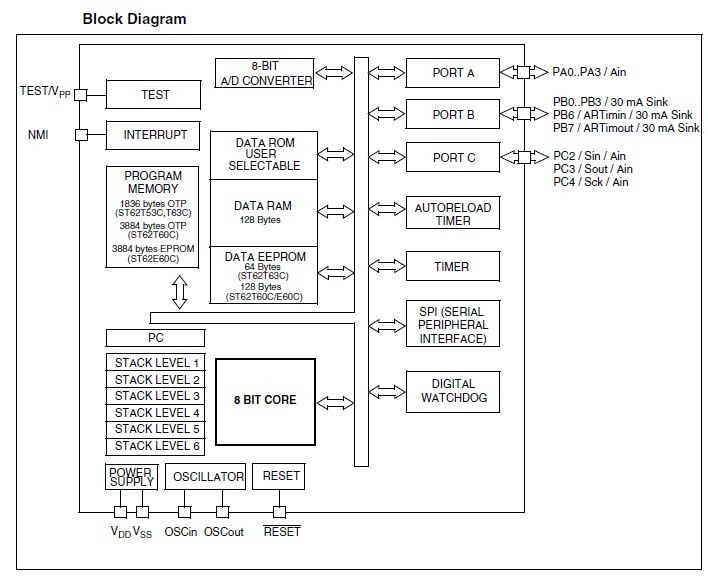 Image
Part No
Mfg
Description
Pricing
(USD)
Quantity

ST62T60CM6

STMicroelectronics

8-bit Microcontrollers (MCU) OTP EPROM 4K SPI

Data Sheet



| | |
| --- | --- |
| 0-705: | $2.20 |
| 705-1000: | $2.06 |
| 1000-2000: | $2.00 |

Image
Part No
Mfg
Description
Pricing
(USD)
Quantity

ST62

Other



Data Sheet

Negotiable

ST62 & ST7

Other



Data Sheet

Negotiable

ST6200C

Other



Data Sheet

Negotiable

ST6200L

Other



Data Sheet

Negotiable

ST6200QNL

Pulse

Transformers Audio & Signal POWER IND

Data Sheet



| | |
| --- | --- |
| 0-1: | $3.85 |
| 1-10: | $3.11 |
| 10-100: | $2.48 |
| 100-500: | $2.27 |


ST6200QNLT

Pulse

Power Transformers SMT HIGH CURRENT IND

Data Sheet



| | |
| --- | --- |
| 0-410: | $2.48 |
| 410-500: | $2.27 |
| 500-900: | $2.27 |
| 900-1000: | $2.15 |