Product Summary
The LP2951CMX is a micropower voltage regulator with very low quiescent current (75μA typ.) and very low dropout voltage (typ. 40mV at light loads and 380mV at 100mA). It is ideally suited for use in battery-powered systems. Furthermore, the quiescent current of the LP2951CMX increases only slightly in dropout, prolonging battery life. The 8-leadLP2951CMX is available in plastic, ceramic dual-in-line, LLP, or metal can packages and offers additional system functions.
Parametrics
Absolute maximum ratings: (1)Input Supply Voltage: -0.3 to +30V; (2)FEEDBACK Input Voltage: -1.5 to +30V; (3)Power Dissipation: Internally Limited; (4)Junction Temperature (TJ) +150℃; (5)Ambient Storage Temperature: -65° to +150℃; (6)Soldering Dwell Time, Temperature: Wave: 4 seconds, 260℃; Infrared: 10 seconds, 240℃; Vapor Phase: 75 seconds, 219℃; (7)ESD Rating Human Body Model: 2500V.
Features
Features: (1)5V, 3V, and 3.3V versions available; (2)High accuracy output voltage; (3)Guaranteed 100mA output current; (4)Extremely low quiescent current; (5)Low dropout voltage; (6)Extremely tight load and line regulation; (7)Very low temperature coefficient; (8)Use as Regulator or Reference; (9)Needs minimum capacitance for stability; (10)Current and Thermal Limiting; (11)Stable with low-ESR output capacitors (10mΩ to 6Ω) ; (12)Error flag warns of output dropout; (13)Logic-controlled electronic shutdown; (14)Output programmable from 1.24 to 29V.
Diagrams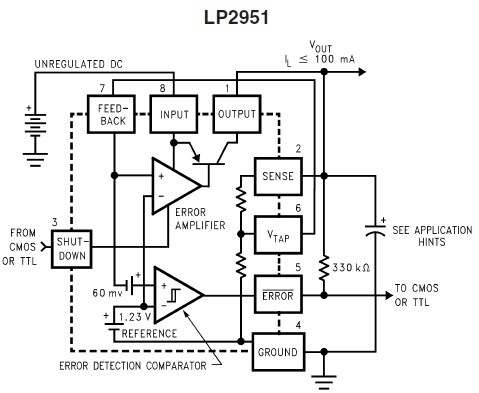 Image
Part No
Mfg
Description
Pricing
(USD)
Quantity

LP2951CMX

Fairchild Semiconductor

Low Dropout (LDO) Regulators adl Voltage Reg Micro Power

Data Sheet



| | |
| --- | --- |
| 0-1: | $0.40 |
| 1-25: | $0.28 |
| 25-100: | $0.24 |
| 100-250: | $0.20 |


LP2951CMX/NOPB

National Semiconductor (TI)

Low Dropout (LDO) Regulators POS ADJ LDO

Data Sheet



| | |
| --- | --- |
| 0-1: | $0.52 |
| 1-25: | $0.40 |
| 25-100: | $0.36 |
| 100-250: | $0.31 |


LP2951CMX-3.3/NOPB

National Semiconductor (TI)

Low Dropout (LDO) Regulators

Data Sheet



| | |
| --- | --- |
| 0-1: | $0.58 |
| 1-25: | $0.45 |
| 25-100: | $0.39 |
| 100-250: | $0.34 |


LP2951CMX-3.0/NOPB

National Semiconductor (TI)

Low Dropout (LDO) Regulators

Data Sheet



| | |
| --- | --- |
| 0-1: | $0.58 |
| 1-25: | $0.45 |
| 25-100: | $0.39 |
| 100-250: | $0.34 |


LP2951CMX-3.3

National Semiconductor (TI)

Low Dropout (LDO) Regulators

Data Sheet



| | |
| --- | --- |
| 0-2500: | $0.21 |
| 2500-5000: | $0.19 |
| 5000-10000: | $0.18 |


LP2951CMX-3.0

National Semiconductor (TI)

Low Dropout (LDO) Regulators

Data Sheet



| | |
| --- | --- |
| 0-2500: | $0.21 |
| 2500-5000: | $0.19 |
| 5000-10000: | $0.18 |